We - Al and Kathy Lopez - opened our first furniture repair business in Atlanta, a franchise, in 1994. Al focused on the business while Kathy finished her Ph.D. at Emory University Our business quickly became an award-winning, top-ten operation.

Following a job offer for Kathy at Campbell University in Buies Creek, NC, we sold the franchise and moved to Dunn, NC in 2002.

That same year we started Alkat, so we could put our own ideas about furniture refinishing and restoring into practice. We began with a focus on restoring furniture for moving and insurance companies.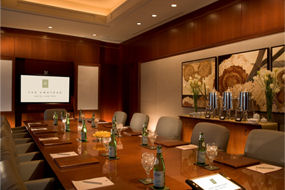 Pretty soon, we realized there was a much larger need out there for quality, dependable furniture refinishing, repairs of new and worn architectural millwork, interior woodwork, wood doors, and cabinetry.

So we took many of the tools and techniques we learned in Atlanta, added in our own sense of how to do business, and things grew from there. Today the company employs five skilled on-site technicians and handles a growing volume of business in our headquarters woodworking facility.

It turns out that people seem to like honest business people who deliver what they promise. Relying almost entirely on referrals, Alkat has been fortunate enough to be involved in some of the most high profile projects in the region.
We're seen in all the best places
NC State University
UNC Chapel Hill
BB&T Building, downtown Raleigh
The Umstead Hotel, Cary
The Raleigh Convention Center
Old Chatham Country Club
RDU Terminal 2
The Cyprus of Raleigh